Episode 1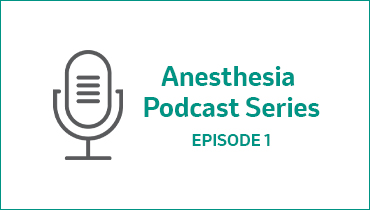 Anesthesia Podcast Series
Episode 1: Judicious neuromuscular blockade (NMB) management is paramount for patient care
Host: Dr. Friedrich Pühringer (Germany)
Guest: Dr. Glenn Murphy (USA)
This podcast episode is in English.
Anesthesia: Techniques and Agents. Ch 24. In: Phillips N, Hornacky A, eds. Berry & Kohn'sOperating Room Technique. 14th ed. Elsevier, Inc.; 2021:421-454.
Brull SJ, Kopman AF, Naguib M. Management principles to reduce the risk of residualneuromuscular blockade. Curr Anesthesiol Rep. 2013;3:130-138. doi: 10.1007/s40140-013-0014-9
Lundstrøm LH, Duez CH, Nørskov AK, et al. Effects of avoidance or use of neuromuscularblocking agents on outcomes in tracheal intubation: a Cochrane systematic review. Br JAnaesth. 2018;120(6):1381-93. doi: 10.1016/j.bja.2017.11.106
Bruintjes MH, van Helden EV, Braat AE, et al. Deep neuromuscular block to optimize surgicalspace conditions during laparoscopic surgery: a systematic review and meta-analysis. Br JAnaesth. 2017;118(6):834-842. doi: 10.1093/bja/aex116
Plaud B, Baillard C, Bourgain J-L, et al. Guidelines on muscle relaxants and reversal inanaesthesia. Updated guidelines from the French Society of Anaesthesia & Intensive CareMedicine. Anaesth Crit Care Pain Med. 2020:39(1):125-142. doi: 10.1016/j.accpm.2020.01.005
Özdemir-van Brunschot DMD, van Laarhoven KCJHM, Scheffer G-J, Pouwels S, Wever KE,Warlé MC. What is the evidence for the use of low-pressure pneumoperitoneum? Asystematic review. Surg Endosc. 2016;30:2049-2065. doi: 10.1007/s00464-015-4454-9
Naguib M, Brull SJ, Johnson KB. Conceptual and technical insights into the basis ofneuromuscular monitoring. Anaesthesia. 2017;72(suppl 1):16-37. doi:10.1111/anae.13738
Claudius C, Fuchs-Buder T. Neuromuscular monitoring. In: Gropper MA, Cohen NH, ErikssonLI, et al, eds. Miller's Anesthesia. 9th ed. Philadelphia, PA: Elsevier; 2020:1354-1372.
Fuchs-Buder T, Nemes R, Schmartz D. Residual neuromuscular blockade. management andimpact on postoperative pulmonary outcome. Curr Opin Anesthesiol. 2016;29:662-667. doi:10.1097/ACO.0000000000000395
Klein AA, Meek T, Allcock E, et al. Recommendations for standards of monitoring duringanaesthesia and recovery 2021. Guideline from the Association of Anaesthetists. Anaesthesia.2021;76:1212-1223. doi: 10.1111/anae.15501
Checketts MR, Alladi R, Ferguson K, et al. Recommendations for standards of monitoringduring anaesthesia and recovery 2015: Association of Anaesthetists of Great Britain andIreland. Anaesthesia. 2016;71(1):85-93. doi: 10.1111/anae.13316
Debaene B, Plaud B, Dilly M-P, Donati F. Residual paralysis in the PACU after a singleintubating dose of nondepolarizing muscle relaxant with an intermediate duration of action.Anesthesiology. 2003;98(5):1042-1048. doi: 10.1097/00000542-200305000-00004
Fuchs-Buder T, de Robertis E, Brunaud L. Neuromuscular block in laparoscopic surgery.Minerva Anestesiol. 2018;84(4):509-514. doi: 10.23736/S0375-9393.17.12330-8
Murphy G, de Boer H, Eriksson LI, Miller RD. Reversal (antagonism) of neuromuscularblockade. In: Gropper MA, Cohen NH, Eriksson LI, et al, eds. Miller's Anesthesia. 9th ed.Elsevier; 2020:832-864.
Brull SJ, Kopman AF. Current status of neuromuscular reversal and monitoring. Challengesand opportunities. Anesthesiology. 2017;126:173-190. doi: 10.1097/ALN.0000000000001409
Capron F, Alla F, Hottier C, et al. Can acceleromyography detect low levels of residualparalysis? Anesthesiol. 2004;100(5):1119-1124. doi: 10.1097/00000542-200405000-00013
Saager L, Maiese EM, Bash LD, et al. Incidence, risk factors, and consequences of residualneuromuscular block in the United States: the prospective, observational, multicenterRECITE-US study. J Clin Anesthesia. 2019;55:33-41. doi: 10.1016/j.jclinane.2018.12.042
Yu B, Ouyang B, Ge S, et al. Incidence of postoperative residual neuromuscular blockade aftergeneral anesthesia: a prospective, multicenter, anesthetist-blind, observational study. CurrMed Res Opin. 2016;32(1):1-9. doi: 10.1185/03007995.2015.1103213
Plaud B, Debaene B, Donati F, Marty J. Residual paralysis after emergence from anesthesia.Anesthesiology. 2010;112:1013-1022. doi: 10.1097/ALN.0b013e3181cded07
Copyright ©️ 2022 Merck & Co., Inc., Rahway, NJ, USA and its affiliates.
All rights reserved.
---
Next episode
Anesthesia Podcast Series
Surgical Patients at Risk of Postoperative Pulmonary Complications (PPCs)
---