Episode 2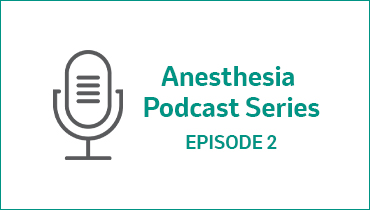 Anesthesia Podcast Series
Episode 2: Surgical Patients at Risk of Postoperative Pulmonary Complications (PPCs)
Host: Dr. Friedrich Pühringer (Germany)
Guest: Dr. Sorin Brull (USA)
This podcast episode is in English.
Miskovic A, Lumb AB. Postoperative pulmonary complications. Br J Anaesth. 2017;118(3):317-334.
Abbott TEF, Fowler AJ, Pelosi P, et al. A systematic review and consensus definitions for standardisedend-points in perioperative medicine: pulmonary complications. Br J Anaesth. 2018;120(5):1066-1079.
Jammer I, Wickboldt N, Sander M, et al. Standards for definitions and use of outcome measures forclinical effectiveness research in perioperative medicine: European Perioperative Clinical Outcome(EPCO) definitions: a statement from the ESA-ESICM joint taskforce on perioperative outcomemeasures. Eur J Anaesthesiol. 2015;32:88-105.
Jin Y, Xie G, Wang H, et al. Incidence and risk factors of postoperative pulmonary complications innoncardiac Chinese patients: a multicenter observational study in university hospitals. Biomed Res Int.2015. doi.org/10.1155/2015/265165.
Herbstreit F, Peters J, Eikermann M. Impaired upper airway integrity by residual neuromuscularblockade. Anesthesiol. 2009;110:1253-1260.
Tevis S, Kennedy G. Postoperative complications and implications on patient-centered outcomes. J SurgRes. 2013;181(1):106-113.
Gallart L, Canet J. Post-operative pulmonary complications: understanding definitions and riskassessment. Best Pract Res Clin Anaesth. 2015;29:315-330.
Patel K, Hadian F, Ali A, et al. Postoperative pulmonary complications following major elective abdominalsurgery: a cohort study. Perioper Med (Lond). 2016;5:10.
Davies OJ, Husain T, Stephens RCM. Postoperative pulmonary complications following non-cardiothoracic surgery. BJA Education. 2017;17(9):295-300.
Canet J, Gallart L, Gomar C, et al. Prediction of postoperative pulmonary complications in a population-based surgical cohort. Anesthesiology. 2010;113:1338-1350.
Pöpping DM, Elia N, Van Aken HK, et al. Impact of epidural analgesia on mortality and morbidity after surgery. Systematic review and meta-analysis of randomized controlled trials. Ann Surg. 2014;259:1056-1067.
Wilson J, Collins AS, Rowan BO. Residual neuromuscular blockade in critical care. Crit Care Nurse. 2012;32(3):e1-e9.
Ferrando C, Soro M, Unzueta C, et al. Individualised perioperative open-lung approach versus standard protective ventilation in abdominal surgery (iPROVE): a randomised controlled trial. Lancet Respir Med. 2018;6:193-203.
Garutti I, Errando CL, Mazzinari G, et al. Spontaneous recovery of neuromuscular blockade is an independent risk factor for postoperative pulmonary complications after abdominal surgery: a secondary analysis. Eur J Anaesthesiol. 2020;37(3):203-211.
Stones J, Yates D. Clinical risk assessment tools in anaesthesia. Br J Anaesth Education. 2019;19(2):47-53.
Chandler D, Mosieri C, Kallurkar A, et al. Perioperative strategies for the reduction of postoperative pulmonary complications. Best Pract Res Clin Anaesth. 2020;34(2):153-166.
Sabate S, Mazo V, Canet J. Predicting postoperative pulmonary complications: implications for outcomes and costs. Curr Opin Anesthesiol. 2014;27:201-209.
Gupta S, Fernandes RJ, Rao JS, et al. Perioperative risk factors for pulmonary complications after non-cardiac surgery. J Anaesthesiol Clin Pharmacol. 2020;36:88-93.
Rudolph MI, Ng PY, Hao D, et al. Comparison of a novel clinical score to estimate the risk of REsidual neuromuscular block Prediction Score and the last train-of-four count documented in the electronic anaesthesia record. Eur J Anaesthesiol. 2018;35:883-892.
Patrocinio MD, Shay D, Rudolph MI, et al. REsidual Neuromuscular Block Prediction Score versus train-of-four ratio and respiratory outcomes: a retrospective cohort study. Anes Analg. 2021;133(3):610-619.
Copyright ©️ 2022 Merck & Co., Inc., Rahway, NJ, USA and its affiliates.
All rights reserved.
---
Previous episode
Anesthesia Podcast Series
Judicious neuromuscular blockade (NMB) management is paramount for patient care
---